Careers - An Overview
Awarded 'Quality in Careers' January 2023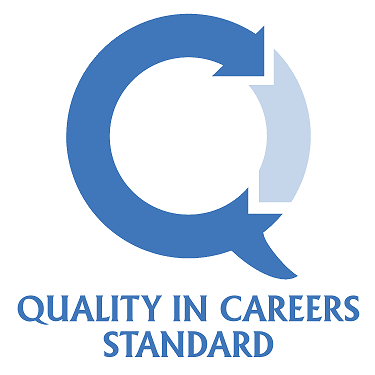 Our Lady's Catholic College aspires to ensure that every student achieves their potential in full. The staff and governors recognise that an effective careers programme is vital to contributing to the raising of aspirations and enabling learners to make realistic and informed choices about their future employment and training options.
At OLCC we have an exciting careers programme designed to encourage students to reflect upon who they are and who they would like to become. In order to complete this journey, we provide a broad range of aspirational activities across all the year groups that support careers exploration and the development of skills. We provide an array of opportunities in varying careers and pathways to ensure every student can make an informed choice about their future, with targeted support from all staff in school and external providers. This is embedded in the curriculum through lessons, drop-down days, assemblies, careers presentations and workshops. We run National Careers week events every March with subject specific career delivery.
Who is responsible for Careers provision at OLCC?
Careers Lead & Assistant Head Teacher – Juliet Duncan
Juliet is responsible for the strategic planning and implementation of the careers curriculum, ensuring all activities fit with the Gatsby Benchmarks for Careers Education, Information, Advice & Guidance.
Contact: j.duncan@olcc.lancs.sch.uk
Careers & PSHE Coordinator – Louise Mosey
Louise oversees the day to day running of the careers programme. As a qualified Careers Adviser, Louise also provides 1:1 careers guidance interviews for all students in key stage 4 and 5.
Contact: careers@olcc.lancs.sch.uk
Enterprise Co-ordinator – Tina milner, Inspira
As our Enterprise Coordinator, Chris provides additional support with careers related activities and helps to create links with local employers and business to inspire students.
Enterprise Adviser – Ruth wilkinson
Debbie is OLCC's representative from industry, she is able to share a wealth of knowledge from her career in Human Resources with students in school and is on-hand to support with employability days, mock interviews, CV writing and careers fairs.
Our Lady's Catholic College will continue to work collaboratively with internal and external providers to build a cohesive programme of careers education. The development of careers has been a priority in the school's strategic development plan and in order to ensure that this vital area is given the priority it needs; the school follows the Gatsby Benchmarking for good career guidance. We have made significant progress across the benchmarks and we are excited to be planning a progressive programme of careers learning in school.
Past Pupils
We are very proud of our past pupils and love to hear what they have gone on to achieve beyond OLCC. If you would like to inspire our current students as an ex-pupil, please get in touch with Louise Mosey – Careers Advisor/Events Co-ordinator careers@olcc.lancs.sch.uk
More details coming soon…

Our Partners;
Future U is the outreach programme that we work with from the University of Central Lancashire, a government funded project which helps raise aspirations and supports students in their choices regarding further education. The programme holds the data for our students and the attachment below explains what and why.
Our local employers
We are grateful to all our local partners for their involvement in focus days, mock interviews, careers fairs, employer encounters & site visits;
Morecambe Bay NHS Careers Hub, Lancashire Fire & Rescue, Lancaster City Council, The British Army, The Department of Work & Pensions, Atkins Global Engineering, English Lakes Hotels, Royal Air Force, EDF Energy, BAE Systems, Navy Apprenticeship Network, BBC Bitesize, Lancashire Police, University of Cumbria, Lancaster University.
If you would like to bring your knowledge and expertise into school to inspire our students, please contact Louise Mosey Careers Co-ordinator l.mosey@olcc.lancs.sch.uk to discuss how we can work together.
Our local colleges - Lancaster & Morecambe College, Kendal College & Myerscough College
Labour Market Information (LMI)
Part of meeting the Gatsby Benchmarks involves teaching students about the local trends and opportunities in our area. Labour Market Information (LMI) is vital to careers guidance and learning in school.
Find out more here: https://www.lmiforall.org.uk/