#Uganda18
OLCC Sixth Form #Uganda18 – Summary Feedback Report
Students returned safely to the Uk on 26 July after a very busy and successful trip. They coped well with challenges along the way and have lots of tales to tell! Here are just a few comments from them…
'Uganda was an incredible experience. It gave me the opportunity to not only see the perspective of what some people go through but also the incredible happiness and joy the very same people can radiate. This experience truly showed me some of the beauty of humanity and how easy it is to be full of life. I hope to return someday to continue helping these communities.' - Joe Lewis
'The schools and clinics that we visited clearly still need improvement but it was incredible to see what a difference the money we, and the people before us, had made in shaping the foundations of the establishments and the lives of the people that use them' – Jess Karim
'The whole experience made me realise that you don't need everything to be happy and we should focus more on the basics of life such as community rather than the materialistic things we have, which was shown through the happiness of all the students and people that we met in Uganda, despite them having very little compared to us.' – Lucy Walker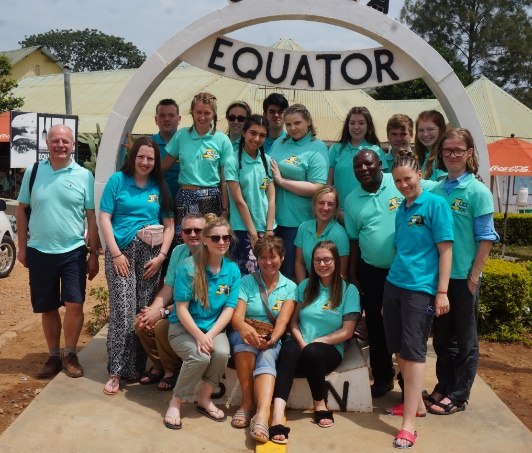 We have planned a Feedback Presentation Evening on Wednesday 12 September at Our Lady's Catholic College from 5 pm and anyone with an interest is invited to attend. In case you can't make it, here is a bit of a summary of some of the activities we took part in.
Primary School Visits
We visited two primary schools where our students entertained the little ones with singing, skipping, dancing and parachute games. Both schools were very happy to receive resources provided by OLCC Lenten Fundraising activities. These included class sets of coloured pencils, footballs, educational posters, skipping ropes, curriculum books and a parachute.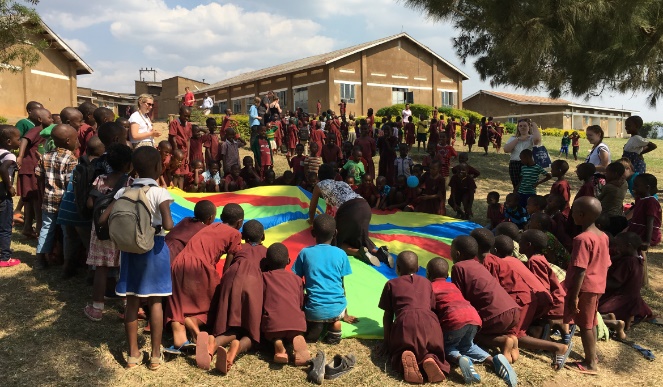 Secondary School Visits
We spent one day at each of our four partner secondary schools and interacted with students, sharing workshops on topics such as environmental issues and the history of women's rights. We learnt some Ugandan dance steps and engaged in discussions about life in the UK and in Uganda. We also visited two 'new' secondary schools in Kanungu. One in particular was very poorly resourced and we felt inadequate leaving boxes of pens when they didn't seem to have any books to write in.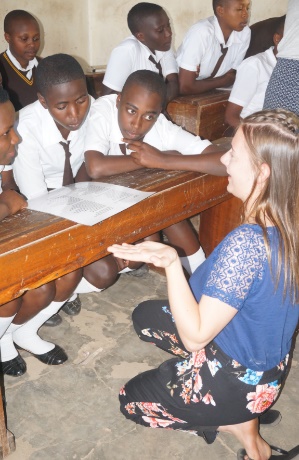 Chemistry Teacher Training Courses
Jess Mehers, a lab technician from Lancaster University, along with our chemistry students, assisted in leading the Teacher Training Courses. They ran very smoothly and we received excellent evaluations from the delegates. Schools were overwhelmed to receive class sets of apparatus and chemicals to enable them to deliver the practical work we presented on the courses in their own classrooms. In total, £10,000 worth of chemicals and equipment (mainly purchased in Kampala) was donated to over 20 schools.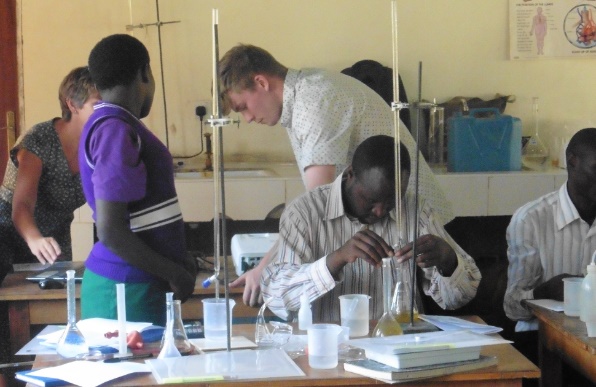 The Kakatunda Health Clinic, Bukinda
It was great to visit the clinic and see the progress they have made, mainly due to the support of our communities in Lancaster (£4000 donated to date). It was good to see new mattresses and drip stands in the old clinic, stamped with OLCC, and visit the new maternity ward which is well on the way to completion.
We hope to continue to support the completion of the clinic in the future.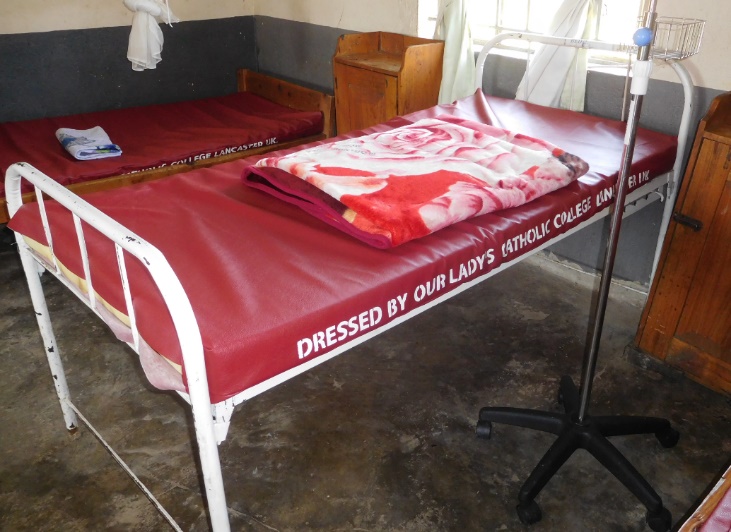 Home of Divine Mercy Vocational Centre
This is a new project which we have started to support. It is a day school for vulnerable young girls who have had to drop out of school for a variety of reasons – many are orphans. The girls (and one boy!) are taught skills such as knitting and tailoring which should assist them to make their own living in the future. They were very proud to show us the soft toys and garments they had made. OLCC Lenten Fundraising had paid to install a large water tank for the school which they were very keen to show us.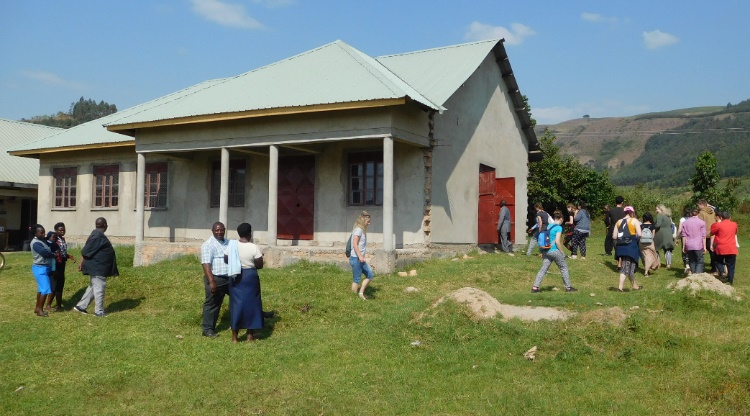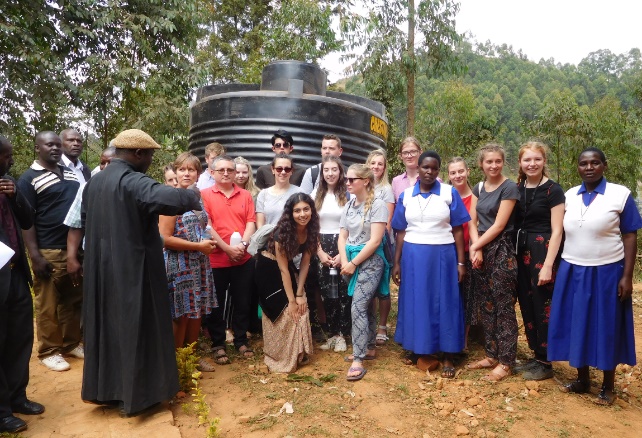 On Safari! Knowing that this could be the one and only trip to Africa for some of our students , we managed to fit in a 24 hour visit to one of the National Parks and were blessed to see lions, elephants, crocodiles, hippos and many other wild animals.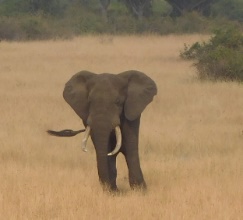 The Karamoja
Rachel (our lay chaplain), Father Sunday (our Ugandan priest and guide) along with myself and my husband, waved goodbye to our students and proceeded on a 12 hour journey to the Karamoja in Northern Uganda. We stayed with a community of priests and brothers in Moroto and experienced a very different Uganda. Rachel spent a day at a large local Girls school, heavily supported by the UN and other charities. She shared some of the fantastic chaplaincy work she has carried out in the UK. This is part of the comment she received from a member of their chaplaincy team,
'I will never forget you as a colleague in doing God's work with the people he has entrusted into our hands and for your encouraging words. You made me feel that I am serving the living God and I always find my pleasure in working with young people and for God. My God bless you and I will always consult you when I am stuck.'
We delivered a teacher training course, working with our friend and chemistry teacher Gyaviira who accompanied us on the 2016 trip. The Karamoja is a challenging place with scorpions, snakes and armed warriors alongside high levels of poverty but the community and the teachers were extremely cheerful and welcoming – we had an incredible time.
So – I hope that gives you a taste of our trip. I would like to thank the Elizabeth and Richard Wilson Trust Fund, the Banks Lyon Memorial Trust Fund and the local NW branch of the Catenian Society for their help in supporting the students with some of their expenses. Our thanks – and the thanks from all the Ugandan communities we visited – goes to the many parishes who gave so generously to our collections, the staff and students of OLCC and the businesses who sponsored our fund-raising events. The resources we left behind will be truly appreciated but more than that is the 'international friendship' which has been established between our communities. Please let us know if anyone is interested in supporting these communities in the future. The Home of Divine Mercy and the Kakatunda Clinic are two projects which can be supported with Gift Aid through a charity called Afrinspire. The money goes directly to these institutes and I am 100% confident of accountability in both of these cases.