Cancer Research
Charity Walk
We are extremely proud of all our student's achievements, both acamedically and socially, and when you look at what Lucy Richards (Year 11) has achieved in challenging circumstances it is clear our pride is well founded.
Lucy and her family are going through an extremely difficult time as her father has battled cancer for many years, Lucy has not only kept up with her school work and maintained a fantastic attendance record but she has also thrown herself into fundraising for Cancer Research.
Last July, when the rest of the school were winding down for the summer holidays, Lucy and her friend Cailtin Sinclair were extremely busy organising an 8 mile charity walk. If they were just taking part in the walk themselves that would have been an impressive feat, but the girls took this a step (pardon the pun) further! The charity walk was open to all the staff and students at Our Lady's and the day involved 4 different departure and arrival times, a quiz and various lessons in school. The purpose of the school based activities was to raise awareness and inform the students in regard to cancer and the Cancer Research charity. Each participant in the walk paid £3 and a number also raised sponsorship money, the final figure for the day standing at an amazing £1544.22!!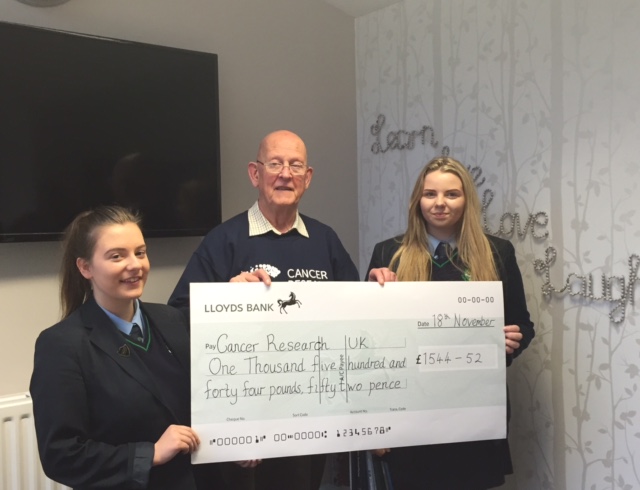 Even though the Lucy and Caitlin have a busy year ahead with the GCSE exams, they have decided they can fit in a bit more fundraising too! With the help of Miss Saltariche, Head of Year 11, the girls are planning a Christmas fayre to be held in school on 11th December. All proceeds from the fayre are to be donated to Cancer Research. Please keep your eyes on our facebook page and website for further details!