Profile of a Past Pupil - Michael Lowe (2003 - 2010)
Michael Lowe is truly an exceptional young man – he gained 10 A* GCSE grades and 4A* A Level grades, and at Edinburgh university was awarded The Ettles Scholarship and Leslie Gold Medal - the most distinguished MBChB graduate of the year - this put him at the top of his entire year of medical students.
Michael Lowe ponders on the beginning of his journey to becoming a doctor and feels that it's hard to identify the moment he started on this path. At some point he decided that he would quite like to be a doctor, and since then events have seemed to move very quickly to the point where he is now one!
He recalls a number of highlights from his 6 years at medical school, a major one being meeting an excellent group of friends, who are now scattered throughout the UK working as junior doctors. Another big highlight was spending 8 weeks in Fort William on the medicine block – Michael describes the hospital as tiny, just over 30 patient beds, with the medical students living on the top floor of the hospital along with the junior doctors. Due to the remoteness, they had to deal with anything that came through the door - from coughs and colds to major climbing/road accidents.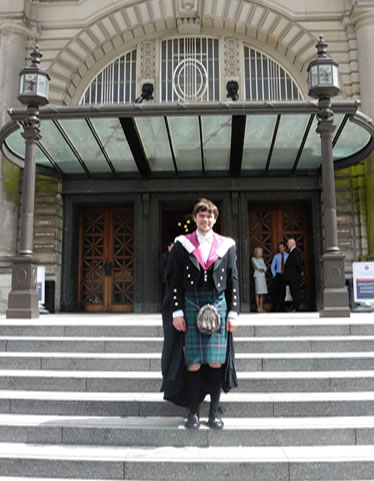 As with every career path you choose there are challenges. Michael describes this very eloquently, "Medicine is a profession in which you often encounter people at hugely significant moments in their life - both good and bad. Watching people receive bad news about themselves or family members, experiencing the huge range of reactions people have to such news, examining a body to confirm death - these emotionally and psychologically challenging moments come alongside more positive moments; a good scan result, a successful operation, someone finally ready to go home after a lengthy stay in hospital. Working out how to respond in these diverse situations, and how to deal with your own reactions is one of the hardest aspects of being a doctor."
As part of their training medicine students have elective placements (this gives you the opportunity to explore a particular medical specialism in a different healthcare environment). Michael spent a wonderful 4 weeks in Inverness and the Highlands working in a Medicine of the Elderly ward (his current career ambition) and a then at a very diverse location – on the island of Grenada! Michael describes these experiences, "This was the first time since starting medical school that I felt even nearly like a doctor - spending 4 weeks working every day on the same ward meant I got to know the patients and their families, as well as the doctors and nurses I was working with. This was followed by a very relaxing 4 weeks on the Caribbean island of Grenada. Island life is extremely slow paced and relaxed, and the medical clinic reflected that. The doctor seemed to know everyone on the island and had plenty of time to chat to his patients as well as dealing with their medical problems. As Grenada is so small, there were a lot of medical services that you couldn't get on the island, so the ability of patients to pay for travel to the larger islands/the mainland could mean the difference between getting treatment or not."
Michael is currently working as a junior doctor in Glasgow, in one of the largest hospitals in the UK. He describes it as extremely busy and often stressful, but reports that he is finding his feet and is very well supported by colleagues from all healthcare professions.
Michael reflects on his at Our Lady's very fondly, and commented that he is incredibly grateful to have been part of the diverse, friendly, welcoming and above all caring community of the school. Despite his immense successes in education Michael truly believes that the values instilled by being part of such a community are more important than any academic achievement.